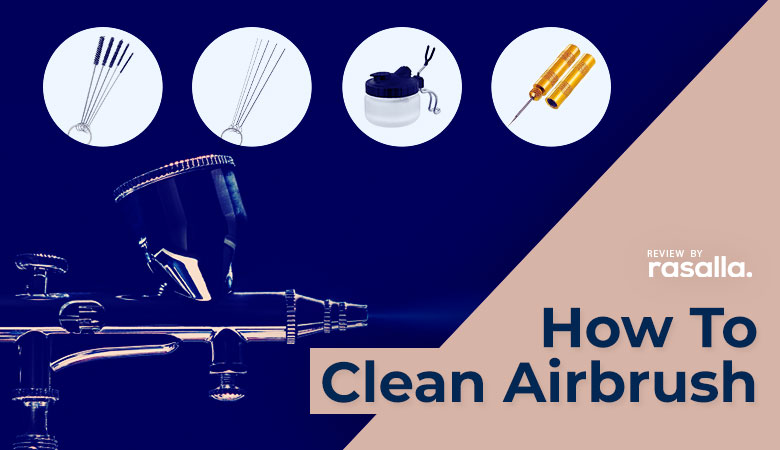 How To Clean Airbrush Makeup Gun?
We have had enough knowledge about how to use an airbrush. Now, let us read how to clean different types of airbrush makeup gun.
If you want to give any equipment or machine long and durable life, then it is very important to take good care of them. After certain hours of work, every machine requires cleaning. Similarly, it is very important to clean your airbrush equipment on alternate days.
People usually complain about their Airbrush getting regularly clogged. This can be caused due to two reasons, either they are using too thick makeup base, or they are ignoring its proper cleaning.
5 Bestseller Airbrush Cleaning Kit on Amazon
When To Clean Your Airbrush?
When you are continuously switching colours in your Airbrush, before changing from one colour to another colour, you need to clean your Airbrush before applying another colour. If you do not clean it before using another colour, then the two shades will get mixed up, and it will not give you a suitable or desired colour that you wanted.
Also, when you are done using your Airbrush or done for the day and keeping your Airbrush at rest, then it is better that you should clean first and then keep it. Just try to clean it then, and after that, you stop using it for the day. Keeping the brush cleaned all the time will increase the efficiency of the brush, and the results would be better.
But in today's time when everyone is running so busy and are in so much rush, people do not have enough time to disassemble every part every time and deep cleaning it. 
Here are some healthy and quick tips and tricks! How to clean your Airbrush for next use?
Step 1
The first and fundamental step is to head on the compressor and turn it on high if your Airbrush has the air control facility. You need to take a tissue paper and spray the entire product left inside it in a tissue paper.
Step 2
Once you are done, next you need to take a cleaning solution and pour it in the stylus cup. The cleaning solution should be amino acid free. You need to grab a cotton bud quickly and gently get inside it and clean the stylus cup.
Step 3
Then, take back the cotton bud and quickly put it inside the nozzle and rotate it clockwise to clean it properly.
Step 4
Again, you need to repeat step one. Take a tissue paper and spray the entire cleanser on it.
Step 5
Now, you need to turn off your compressor and remove the back lid of your stylus. Gently lose the small nut and slid out the needle from the stylus. Take a tissue paper again and swipe it on the needle to clean any remnants of your excessive products. Slide back your needle back into the stylus and screw back the nut. Put back your back lid on the stylus. Before putting the back lid, press the trigger of the machine to check whether the needle has been placed correctly and the screw is tight and ready for next use. Now your airbrush makeup gun is cleaned and ready to use.
Makeup airbrush gun can be cleaned by using some tools as well, which are easily available. Let us see which equipment we can use.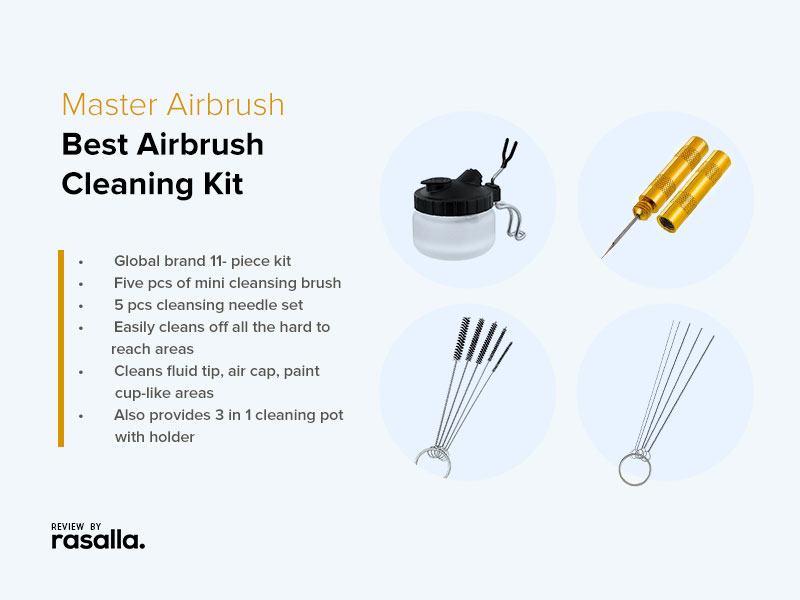 This is a kit by brand Master which includes TCP Global Brand 11 pieces Cleaning Kit with five pieces Mini Cleaning brush set, five pieces Mini Cleaning Needle set and an Airbrush Resource Centre Link Card. This easily cleans off all the hard to reach areas in the Airbrush. The spray gun or any other item with small orifices that need cleaning like the fluid tip, air cap, paint cap etc. master airbrush Deluxe Airbrush is 3 in 1 Cleaning Pot with Holder, that cleans airbrushes, holds airbrushes and colour palette lid and also filters. The three-in-one clean pot can also be used as an airbrush holder. This is a good equipment kit that one can have to clean makeup airbrush gun.
Where to Buy Master Airbrush 13 Piece Best Airbrush Cleaning Kit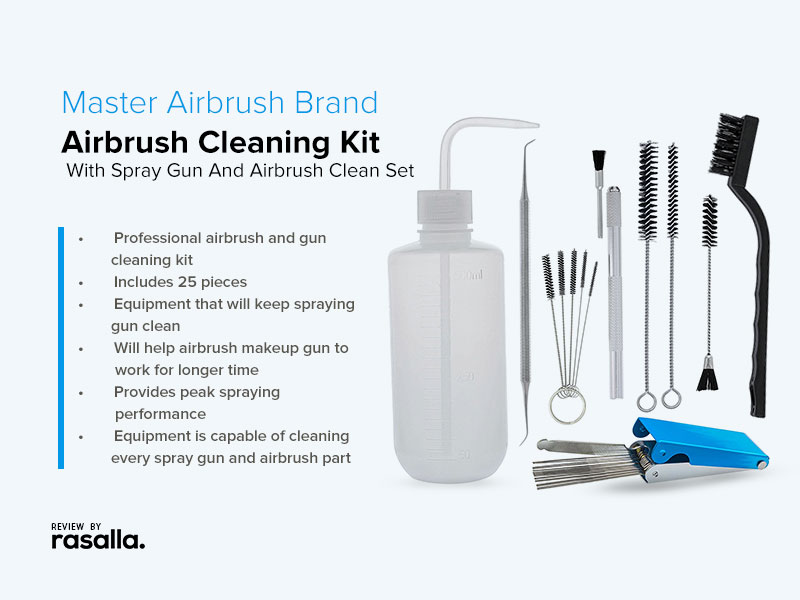 This is a makeup brush cleaning kit by Master Airbrush Brand. It is a 25 pieces professional airbrush and sprays gun cleaning kit that will keep your spraying equipment clean and efficient. They provide you with peak spraying performance. This kit includes all the brushes and components that are needed for cleaning every spray gun and airbrush part. 
It includes 13 micro-sized needles, five pieces mini- brushes set, mini end brush with a holder, double side dental pick. It also contains two tube cleaning brushes, one double-sided combination brush. Not only this, one large general-purpose brush as well. It includes a 16-ounce polyethylene bottom fluid, a feed cleaning bottle.
Where to Buy Master Airbrush Brand Airbrush Cleaning Kit With Spray Gun