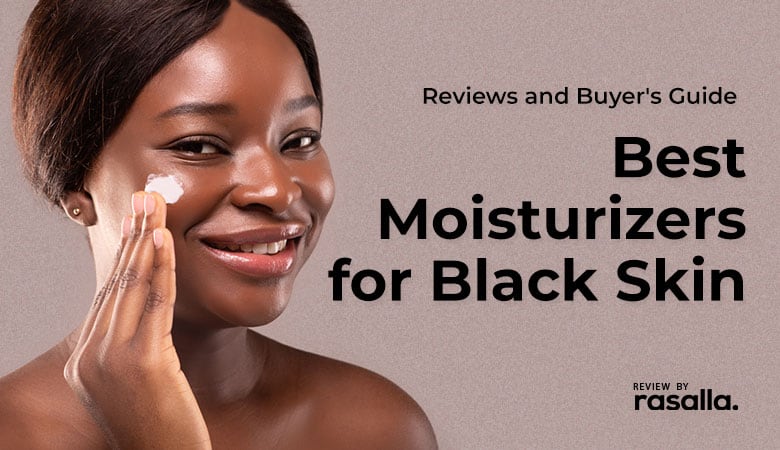 Research shows that people with black skin tend to lose moisture more quickly than fair-skinned folks. This lack of moisture causes the skin to appear ashy and dull. People with dry skin are prone to skin concerns such as acne, redness, inflammation, and white flakes. It also accentuates the appearance of wrinkles. You are lucky as you can address all the concerns with the help of the best moisturizer for black skin. Moisturization is considered to be the cornerstone of our daily skincare regimen. It is something important that you should never skip. Besides providing moisturization to the skin, moisturizers also do more things like preventing acne, delaying aging, and keeping your skin healthy. If you are in search of the best moisturizers for black skin, you are in luck! We have got you hand-picked and top-rated products, which are available online—the best products for your skin. Just click the links below and get the most desired moisturizers for your black skin.
What is a moisturizer? 
Moisturizer is a cosmetic preparation that is used for moisturizing, protecting, and lubricating the skin. These functions are generally performed by sebum which is produced by healthy skin. 
Moisturization should be an essential part of everyone's standard routine for skincare, especially for facial skin. It helps to re-hydrate the facial skin. Daily moisturizing is vital for skin to keep it healthy, yet some people think it is an aesthetically inclined habit. Our skin is the largest organ of our body, and it requires regular attention to stay young, healthy, and blemish-free.
Moisturiser makes the skin softer and smoother. Keeping our facial skin hydrated helps it retain its elasticity for a more extended period. Not only this, but it also helps stave off signs of aging for a longer time. 
Importance of Moisturizer 
The skin on your face, ears, neck, and chest acts sensitively to environmental changes. These are the most frequent areas of the body know to develop cancer. These areas of the skin are likely to shed cells more rapidly than other parts of the body. Therefore, these areas of the skin need moisture to repair themselves, which allows for the younger cells to arrive at the surface. Also, the massaging effect that is used when applying lotion helps stimulate blood circulation. Thus, it leads to the generation of new cells.
Reduces Skin Problem: Applying a moisturizer every day can reduce the chance of developing extreme dryness or oiliness. Both extremes are harmful to the skin and may result in common skin problems such as acne.
Conceals other skin blemishes: Daily use of moisturizer ensures that the skin's blemishes are camouflaged. It is because moisturizing tends to make the skin have a slight sheen. Moisturizer also helps those with any tint or self-tanner and also even out of different skin tones.   
When to Use a Moisturizer?
There is no specific time for using moisturizer; you can use it at any time of the day when you feel your body need it. Although, there are particular times when you should not miss moisturizer after a bath, shave, or exfoliation. As many times you take a shower in a day, you need to moisturize yourself after every bath. Moisturizing your skin is essential every time you take a bath because hot water strips all the moisturizer and oils out of your skin. When all the moisture is drained out of the hide, it becomes parched and dry. However, hot water may be relaxing as well as it wreaks havoc on your skin. So, include a moisturizer in your routine and never skip it.
What Moisturizer to Use 
Regular use of lotions and moisturizers should be part of one's daily regimen. Some moisturizers are better than others and give better results. It would be best to choose a moisturizer with plenty of vitamins, with an SPF of 15 to protect your skin during day time. Also, lotions should be used that are oil-free, non-comedogenic, that would not clog pores. Also, the moisturizer should be allergy and dermatologist tested. 
The moisturizer must be enriched in Vitamin A and Vitamin B5, increasing firmness and building moisture levels. 
It should also have anti-oxidants like Vitamin C and E that helps in protecting new skin and fight skin damage.
It should be PABA- Free SPF 15 sunscreen that helps in preventing pre-mature lines and wrinkles.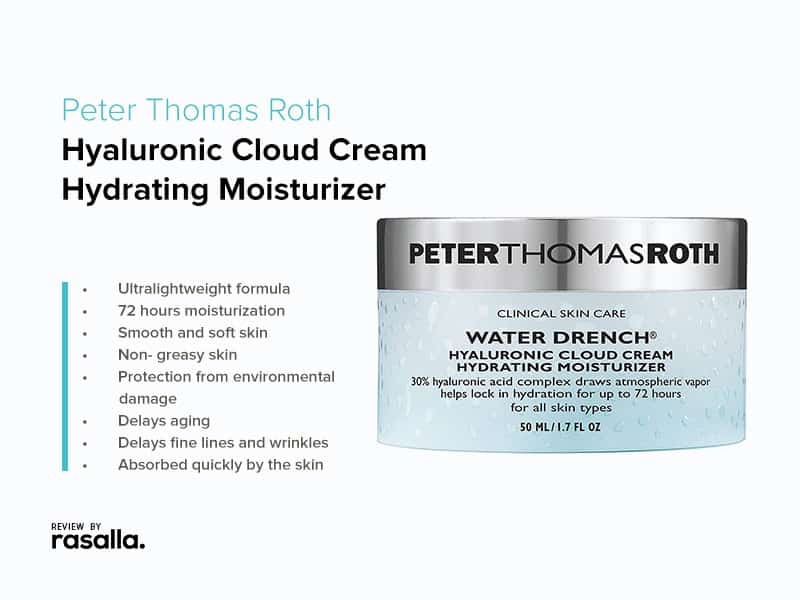 If you are a person who does not mind splurging on skincare products, this moisturizer from Peter Thomas Roth is the best option to go for. It works for people with oily skin. It features ultra-lightweight formula. It hydrates your skin without making the skin greasy or heavy. Protect the skin from environmental damage; it is made with 30% hyaluronic acid and peptides, which lock the skin's moisture. This formula will also help delay the onset of aging due to Plus, peptides that work as an anti-aging powerhouse. The most fantastic thing is you can also find improvement in the appearance of fine lines and wrinkles. It is super smooth and keeps your skin moisturized for up to 72 hours. This feature of the moisturizer is truly impressive. The moisturizer is infused with hydrolyzed silk, which makes the skin super soft, smooth, and plump. The moisturizer is absorbed by the skin quickly. Also, the lightweight texture of the cream goes quickly under makeup. It gives a cloud-like texture to the skin.
Advantages
Ultralightweight formula
Hydrates skin
72 hours moisturization
Smooth and soft skin
Non- greasy skin
Protection from environmental damage
Delays aging
Delays fine lines and wrinkles
Absorbed quickly by the skin
No irritation
No greasiness
It goes under make up
Disadvantages
Recommended only for oily skin
Where to Buy Peter Thomas Roth Water Drench Hyaluronic Cloud Cream
Click Here To Buy on Amazon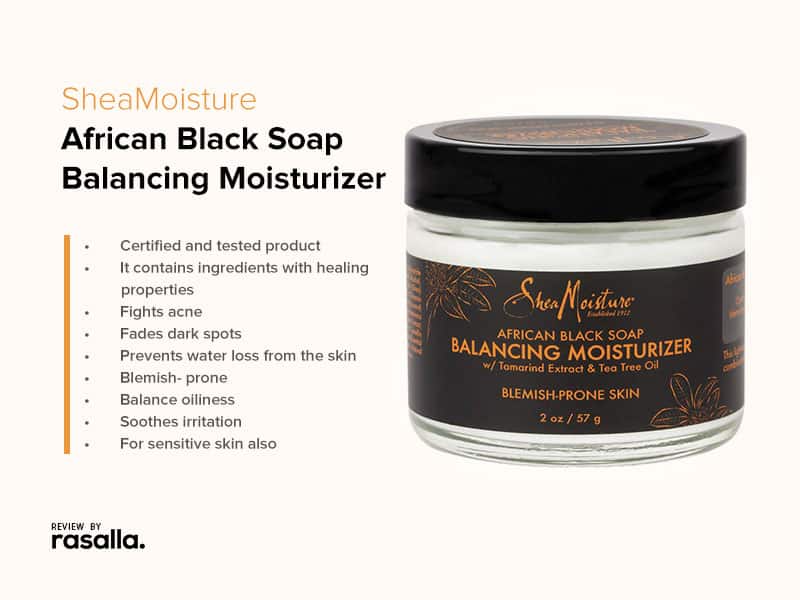 This moisturizing lotion from Shea Moisture contains African black soap extract, which acts as a miracle skincare ingredient long- cherishes for its healing properties. It combats acne and fades dark spots. It also helps in preventing water loss from your skin. If your skin is blemish-prone or exposed to acne, then this body wash is a must-have. It adds hydration to the skin, soothes irritation, and balances the oiliness of the skin. It is in a creamy form, and the creamy lotion absorbs quickly. The skin feels soft, smooth, and never feel greasy.  
It contains many moisturizing ingredients such as aloe vera, jojoba oil, mango seed oil, and willow bark extract. With so many ingredients in one moisturizer assures that your skin will stay hydrated and moisturized all day long. Thus, this product is gentle enough for sensitive skin as well. It does not contain any harmful chemicals or parabens, sulfates, etc. Shea moisturizers create skincare products keeping dark skin tone in mind. Also, it is super affordable and easy to carry. 
Advantages
Certified and tested product
It contains ingredients with healing properties
Fights acne
Fades dark spots
Prevents water loss from the skin
Blemish- prone
Balance oiliness
Soothes irritation
Soft skin
Non-greasy
For sensitive skin also
Affordable price
Disadvantages
Sometimes a fake product comes instead of original
No returns policy
Where to Buy Shea Moisture African Black Soap Moisturizer for Dry Skin
Click Here To Buy on Amazon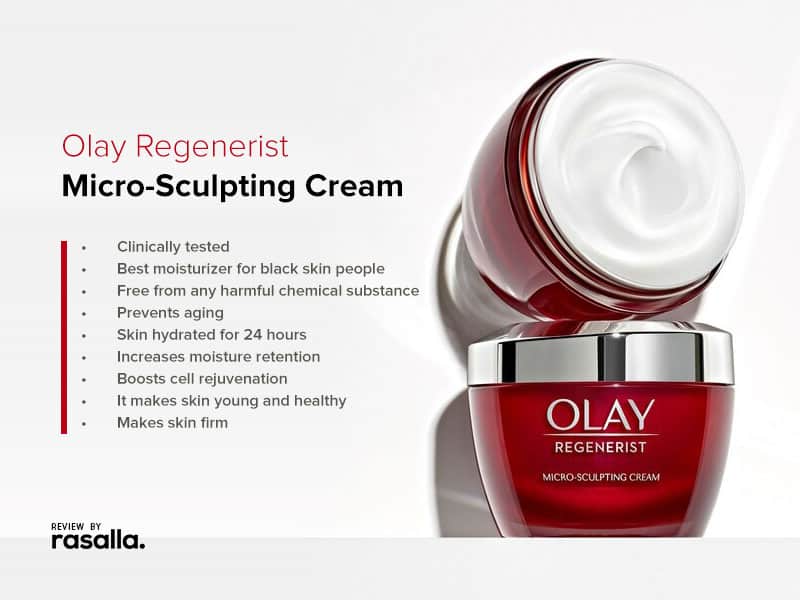 Olay Regenerist cream is a micro-sculpting cream that works as a facial moisturizer for thousands of people worldwide. It also helps in decreasing the signs of aging. It is infused with hyaluronic acid, amino peptides, and niacinamide that deeply hydrates our skin. It keeps your skin hydrated for up to 24 hours. Also, it increases water retention by 50 percent. 
It also works as a cell booster rejuvenator. The use of this moisturizer reveals a youthful complexion. Olay Regenerist cream has more than 10,000 reviews on Amazon and has been rated as one of the best products for moisturizing skin. It has become one of the hot-selling and best-sellers for the brand. It is a clinically tested product. Thus, this product has all the ingredients that your skin needs to stay young and healthy. Also, it makes the skin look bouncy and firm. It is one of the great moisturizers for women with black color. The product has outperformed some of the high-end products and combats everyday stressors.
Advantages
Clinically tested
Best moisturizer for black skin people
Free from any harmful chemical substance
Prevents aging
Skin hydrated for 24 hours
Increases moisture retention
Boosts cell rejuvenation
It makes skin young and healthy
Makes skin firm
Disadvantages
Where to Buy Olay Regenerist Micro-Sculpting Cream
Click Here To Buy on Amazon
Cetaphil daily facial moisturizer acts as a savior for people with dry and sensitive skin. It is a moisturizer made by using the gentlest skincare ingredients. This formula of the moisturizer hydrates and nourishes the skin while strengthening its barriers. It goes on like a dream as it is a pure lightweight formula. The moisturizer also helps the skin to improve its ability and retain moisturizer. It also protects the skin from being damaged by UVA and UVB radiations from the sun as it has SPF 15 present in it, which works as a protector. This product is being praised for its gentle formula. The ingredients in the moisturizer prevent irritation and redness. It has zero scents present in it. So, your sensitive skin will not be harmed in any way by the use of this product. The formula of this product will never cause acne, and the procedure is non-greasy and non-comedogenic. 
This product is one of the best products in the market. This lotion is best available in the market for black skin people. Even the dermatologist swears by the product. 
Advantages
Best for dry and sensitive skin
Gentlest skincare ingredients used
Hydrates skin
Recommended by dermatologist
Nourishes for a longer duration
Super light
Skin starts to retain more moisturizer
Loaded with SPF 15
Protects from harmful radiations
Avoids irritation
Zero scent present
Non- greasy, non-comedogenic
Reduces acne
Disadvantages
Where to Buy Cetaphil Daily Facial Moisturizer with Sunscreen
Click Here To Buy on Amazon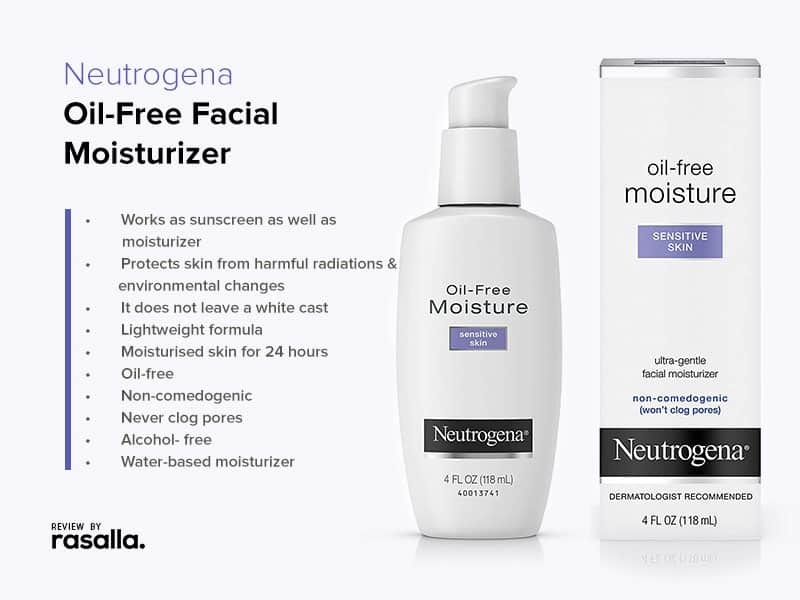 This moisturizer is a time-saving moisturizer. It is called a time saver moisturizer because if you apply this moisturizer, there is no need to follow any other skin routine. It can be used during morning time as well as during the night. It is a water-based moisturizer that is clinically tested and proved. This moisturizer completely works as a sunscreen, so you need not apply separate sunscreen on the skin. It works as a protector of the skin and protects it from any external environmental damage or harmful radiations as it has SPF 35 in it. Unlike most sunscreens, it does not leaves a white cast. 
Apart from sun protection, it works best for providing moisturization. It is a lightweight formula that moisturizes your skin for as long as 24 hours. It is non-greasy, non-comedogenic, oil-free, and it will never clog your pores. You can apply it under makeup, and it gives a smooth finish. Your skin will look softer and clearer than before. It is alcohol-free and dye-free, and this moisturizer does not contain any fragrance.
Advantages
Works as sunscreen as well as moisturizer
Protects skin from harmful radiations and environmental changes
It does not leave a white cast
Lightweight formula
Moisturised skin for 24 hours
Oil-free
Non-comedogenic
Never clog pores
Smooth layer under makeup
Alcohol-free
Dye-free
Fragrance-free
Water-based moisturizer
Disadvantages
Where to Buy Neutrogena Oil-Free Moisturizer for Sensitive Skin
Click Here To Buy on Amazon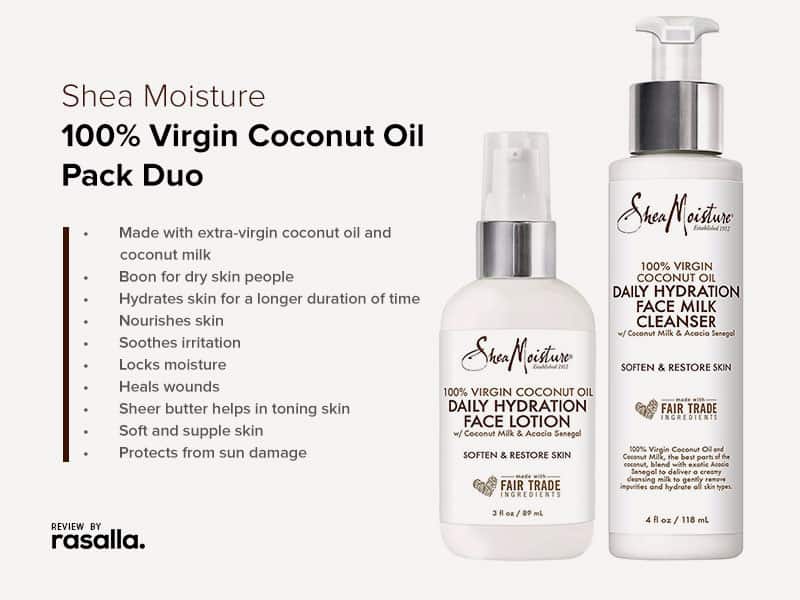 This facial lotion from Shea Moisture is a boon for people with dry complexion. This moisturizer is made with extra-virgin coconut oil. It has the perfect infusion of coconut oil and coconut milk that hydrates and nourishes your face. It avoids irritation and helps in the healing of the skin. It locks moisture for a long duration of time. The essential ingredient present in the moisturizer is Shea butter that soothes and tones the skin. This moisturizer makes your skin soft and supple. You can feel the difference in your skin after applying the moisturizer. 
It is a great product. It protects the skin from direct sun exposure. If you have oily skin, this product is not recommended, as you can see that coconut oil is the sole ingredient. As we know, coconut oil is highly comedogenic, meaning it has excellent potential in unclogging pores. And clogging of pores can lead to acne. But if you do not have acne-prone skin, this is one of the best products you could have.
Advantages
Made with extra-virgin coconut oil and coconut milk
Boon for dry skin people
Hydrates skin for a longer duration of time
Nourishes skin
Soothes irritation
Locks moisture
Heals wounds
Sheer butter helps in toning skin
Soft and supple skin
Protects from sun damage
Disadvantages
Bane for oily skin
This leads to clogging pores
If used by a person with oily skin, it may lead to acne
Where to Buy Shea Moisture 100% Virgin Coconut Oil Pack
Click Here To Buy on Amazon
Conclusion Of Our Research on Best Moisturizers for Black Skin
Our Choice: Well, in my opinion, the winner of the roundup is Olay Regenerist Micro-Sculpting Cream is clinically tested and assured by dermatologists. It proves to be the best moisturizer for black skin people. It hydrates the skin and provides moisturization to the skin for 24 hours. It increases moisture retention by the skin with time. It makes your skin healthy and young. It also prevents aging and makes skin looks firm. People with black skin should go with this lightweight moisturizer. 
Other Beauty & Wellness Products Review